Here is King Legacy popular RPG Roblox simulator game new [Update 4.5.3 ] has been released officially by Venture Lagoons developer. All those gamers who are eagerly waiting for the new updates to be released can now access the latest version of King Legacy directly from roblox.com. Here we have discussed the Whats new added in King Legacy Update 4.5.3 , new codes, rewards and official patch note.
If you are a freebies lover then you differently like to watch a new King Legacy (JAN 2023) Free codes can give you Free beli (Cash), fruits, conqueror ability, quest x2 Money, night blade, coffin boat, fruit bag, item drop, stat reset and many rewards.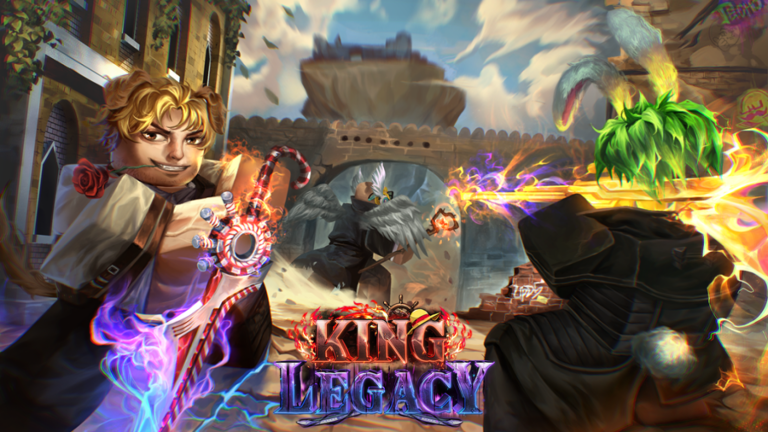 | | |
| --- | --- |
| Game Name | King Legacy! |
| New update date | 18 January 2023 |
| Latest version |  [Update 4.5.3 ] King Legacy |
| Features added | new codes, events, Accessories, and many more |
| Next update leaks | Available soon |
| Roblox promo code | Click here |
| official website | Roblox.com |
Play King Legacy roblox game in now gg (Free on mobile browwer)
Is there are any King Legacy new codes released on Update 4.5.3 ?
Yes, Venture Lagoons the developer of this game has released 5 new code on this major update that will give many in-game rewards
Here is the list of codes added on Update 4.5.3  of the King Legacy Roblox game:
lagshallnotpass – 15 Gems (NEW)
UPDATE4.5.3 – 25 Gems (NEW)
lagshallnotpass – Get free Reset Stats (NEW)
950KLIKES – Get free Reset Stats (NEW)
UPDATE4.5.3 – Get free 5 Gems (NEW)
2023 –Get free 5 Gems (NEW)
delayedchristmas2022 – Get free 5 Gems (NEW)
Roblox King Legacy Update 4.5.3 Patch Notes & Log
Revamped
Bomb V1
Gravity V1
Electro V1
Venom V1 V2
Water Style
Spin
Starter Melee Combat
Nerfed
Phoenix Blade's Damage
Reduced Boss Health -50% (First Sea)
Reduced Ghost ship health 7.5M => 3M
Reduced Hydra Health

   Phase I 2.5M => 2M
   Phase II 5M => 3M
Buffed
Adjusted Longaevus's Damage
Adjusted Night Blade Z Awake's Damage
Adjusted Quake Awake's Damage
Adjusted
Muramasa Increase Cooldown/Nerfed Damage/Buffed Muramasa Stack Faster
Adjusted Shop Prices

Gem

119 R$ (5 => 25)
449 R$ (25 => 125)
829 R$ (50 => 250)
1500 R$ (100 => 500)
3349 R$ (250 => 1250)

Money

50 R$ (25K => 100K)
199 R$ (110K => 400K)
349 R$ (210K => 700K)
499 R$ (325K => 1M)
999 R$ (700K => 2M)

Fruit Restock every 1 Hour => 3 Hours
System
Acroscyth / Sweet Lozenge / Pumpkin Smasher now Tradable!
Revamp Trade UI
Revamp Skill locked display
Revamp Combo Damage Display UI
Revamp Settings UI
Allies Players

UI's Name showing Green Color also Obeservation.

NPC instantly stop follow when you're at the safe zone.
Added Eating Fruit Animation
Added Custom animation
Added Walk/Wun footstep sounds
Added Race Human,Mink,Skypian,Fishman
Added Blacksmith

Sword can be now upgradable by Materials

Added Materials
Added Logia's effect hit sound
Added Gamepass Spawn Hydra
Added Armament Color Storage
Added Movement Animation Store
Added Destroyable Tree , Log can be obtained by destroying it!
Added Logia hit sound effects
Added Tracking Quest Button
Prevent changing a inventory item during combat.
While Hovering the Exp and Health both all numbers can be seen.
While hovering over the status text will show stats information such as SAFE ZONE/SUPER SAFEZONE/IN COMBAT/PVP DISABLED
When killed player or Level up will regen health 50%
Fixed sky jump while you're dashing
Remove several skill moves that have to be held while attacking.

 Dark Skill Z,X
 Dough Skill V
 Light Skill V
 Phoenix Skill X
 Soul Cane Skill X
 Etc. (Mostly on holding skills)

Changed Sea Texture
Health's Regen will be stopped when you're using the skill (Holding)
Revamp Animation more smooth combine (Magma E Griffin, Ice Avis)
Fixed Sea King , Hydra glitch not spawn
ifunable to reach the Damage Requirement player won't be able to collect the treasure.

 Sea King require 100k Damage
 Hydra require 250k Damage

Legacy Island will only sink after someone claimed the chest,Who opened the chest first 'the island will  sink in 5 minutes.
The Requirement for open the Legacy Island's Chest.

 100K+ Damage on Sea King
 250K+ Damage on Hydra

X2 drop item gamepass now availble on sea king,hydra chest,materials.
Added Number of legacy island and countdown time before island will sink.
Random Conqueror Color now need to use Sea King's Fin x1. material to random
Daily Login Reward (Reset every 20 Hours after claimed)
You will spawn latest position you died or left game.
Race
Human

V1 – Teleportation more further.
V2 – ???

Mink (Boost running speed's stack only when equipped Speed's Accessories)
Sky

V1 – Sky Jump Higher (Landing passive by holding a jump while falling within the air. )
V2 – ???

Fish

V1 – Decreased Swim Damage , Swim Faster , Able to see through Underwater clearly.
V2 – ???

New 33 Materials
New Blacksmith

Upgrade your swords by materials (Current Cap: +1)

New Island
New Quest
Level Cap: 3800
Added All Races Progression
Added Electro Progression
Added Dragon Claw Progression
Added Daily Quest
Added New 1 Fruit
Added New 1 Sword
Event: Santa Factory
Limited Sword
Limited Accessories
Candy material can use to random fruit
Final words: The new update has been released on 1/18/2023 (Wednesday). If you find any glitch or bug or Have any queries regarding new updates kindly let us know in below comment box.